Dental Implant Procedure

Dentist Ann Arbor, MI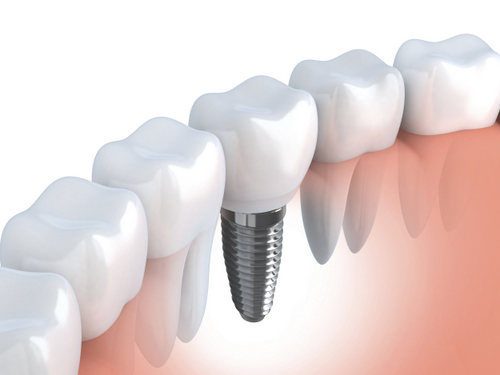 Dental implants are metal tooth posts that replace the tooth roots. These dental posts function similarly to prosthetic tooth screws. Implants differ from bridges and crowns in that they function, feel, and look like natural teeth. The dental implant procedure will depend on the type of implant needed, whether one will have an allergic reaction, and the condition of the jawbone.

To ensure that the bone heals properly around the implant, some further dental procedures may be required. This healing, which may take some time, will provide a strong foundation for the new tooth. At Greashaber Dentistry, we ensure that the dental implant procedure goes smoothly. Here are the steps involved in the actual dental process.


Evaluation

Before recommending the best dental implant procedure, our dentist will carefully examine your jawbone. This initial evaluation also includes such steps as taking impressions, matching the color of your teeth, and taking x-rays to ensure that your implant looks as natural as possible. This may necessitate additional consultations with various dental professionals, including periodontists and oral surgeons. All of your medical conditions and medications will be discussed as well.


Tooth Extraction

Our dentist will extract any remaining teeth that need to be replaced before beginning the dental work. Unless a tooth is fractured, it should be extracted as soon as possible. As the tooth is extracted, you will only feel a slight tug and pressure. After the tooth extraction, you should not smoke, blow your nose, spit excessively, or drink through a straw. These actions could result in pain and a dry socket.


Dental Implant Insertion

Once the bone has healed completely following the extraction process, the dentist will place the implant. After the implant has been inserted into your jawbone, your jawbone will begin to grow around it. The implant is then integrated with your natural gum line. This process can take anywhere from three to nine months, depending on the individual.


Placement of the Abutment

When your implant is sufficiently stable, our dentist will attach an abutment to it. This component serves as the link between your implant and crown. The dentist tightens the abutment to ensure that it stays in place while you eat or use your teeth. Except for slight pressure, you will feel nothing during this procedure. A healing cap will be placed over the abutment to prevent bone and tissue from growing on top of it.


Addition of the Permanent Crown

One of our dentists will create your prosthetic tooth or crown once your gums have healed. Implants are available in both removable and permanent forms. If you have several back teeth that resemble removable dentures, you may prefer the removable option because you can clean and replace them as needed. A fixed implant cannot be removed for maintenance or replacement. It is anchored into the abutment permanently.

We are here to help you decide what works for you - fixed or removable dental implants. If you want a dental implant to be placed or need more information reach out to Greashaber Dentistry at (734) 662-1113 to book an appointment.