Implant Restoration

Ann Arbor, MI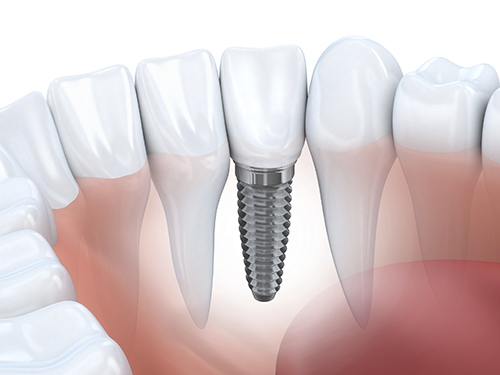 Over 120 million Americans are plagued by tooth loss, but very few try to actually restore their missing teeth. It is much more common for people with a few missing teeth to remain that way for life rather than get their missing teeth restored, although the former could cause a variety of complications. One great way to get your missing teeth replaced is by opting for implant restoration. Not only is implant restoration much more effective than simple dental bridges or dentures, but dental implants also feel and look a lot more natural and help prevent bone deterioration. If you are fully or partially missing your permanent teeth, Greashaber Dentistry can offer the best implant restoration procedures and refurbish your smile once again.


What Are Dental Implants?


Dental implants are artificial roots and crowns attached to your jawbone to mimic your natural teeth. They are essentially an artificial, custom-made crown anchored by an implant post and an abutment that connects these parts together. Implants are ideal for those patients who are missing one or multiple teeth and do not require dentures. They are superior to dental bridges since implants have an artificial root that is inserted into the jawbone, making the implant sturdier. They also avoid shifting of the remaining teeth and loosening of the gums that is generally caused by an unfilled gap and prevent bacteria from entering the jawbone and eroding it.


What Is The Typical Implant Restoration Procedure Like?


Before our professionals begin the actual procedure, a thorough oral examination needs to be conducted. This is followed up with a comprehensive treatment plan that is designed based on the condition of your jawbone, the number of implants you require, and the present condition of your teeth. If you have a diseased tooth or suffer from periodontal disease or have other oral ailments, these conditions are treated before any further action is taken.

After that is taken care of, the actual procedure begins. Implant restoration is a lengthy procedure that needs to be performed in stages, and the jawbone needs to be allowed time to heal after each stage. The process generally starts with the preparation of the jawbone through grafting if needed, and the placement of the implant post. The jawbone is allowed to heal around the post and strengthen it, and once it has completely healed, the abutment and artificial crown are attached to the post. As the procedure promotes bone growth, it may take months, and most of this time is dedicated to passive healing and waiting for the bone to grow around the implant.

While the procedure is safe and has a high success rate, it is important to note that the patient receiving the treatment has a healthy jawbone that is able to support the implant and heal from the procedure adequately. To find out if you are a candidate for dental implants or to know more about implant restoration in general, feel free to call our professionals at Greashaber Dentistry at (734) 662-1113 today!