Mouth Guards

Ann Arbor, MI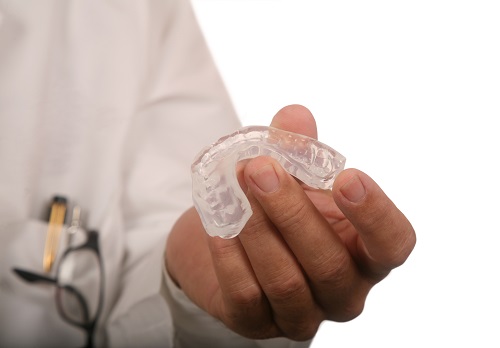 We customize mouthguards to protect teeth while playing sports or when while dealing with bruxism. Wearing this simple device can save you pain, breakage, and time in the dentist chair. Preventive care is an important step in your oral health, at Greashaber Dentistry, we can help you prevent problems before they occur.

A mouthguard is a dental device that is made from a silicone material and shaped to match your teeth. It is designed to fit over your teeth as an added layer of protection or cushioning. Wearing a mouthguard during times when your teeth are at risk can potentially make a huge difference in protecting your teeth, lips, tongue and jaw.


Mouth Guards for Bruxism

A mouthguard for bruxism is sometimes referred to as a night guard. Bruxism is often a temporary disorder that displays during times of stress. Patients with this disorder will clench or grind their teeth subconsciously, most often while they sleep. Though temporary, a lot of damage can occur in this short amount of time. Bruxism can cause teeth to crack, fracture, or be worn down. In some cases, the patient may experience tiny hairline cracks that are small enough to go unnoticed, but large enough for bacteria to find passage inside the tooth leading to disease or tooth decay.


Mouth Guards for Sports

A mouthguard for sports is sometimes referred to as a sports guard or bite guard. More mouth related injuries happen in team sports and outdoor activities than any other type of injury. With reports of knocked out or broken teeth, jaw fractures, concussions and more, adding a layer of protection is so important. A sports guard not only provides a cushion in your mouth, it has also been found to absorb and spread out some of the impact of a head injury, reducing fractures and concussions.


Why Should I Have My Mouthguard Custom Fitted?

Stores have lots of options when seeking mouthguards, so why should you pay for a custom made one? We are happy to discuss all options with you, at the store you will find:

| | |
| --- | --- |
| • | Pre-Made Mouthguards: Most sporting goods stores will offer a one size fits all pre-made mouthguard. The problem with these, is their one size generally means it's not going to fit properly. Your mouth shape is unique, there isn't a standard shape and size. |
| • | Boil and Bite Mouthguards: In addition to pre-made, sporting goods stores offer a more customizable style that you boil the pliable material and then bite down in an effort to shape it to fit better. This version can be ok if you take the time to reduce the bulk and fit it properly, but it is subject to lose its shape when it becomes warm in the car or on the field. |


We recommend having your mouthguard customized for one very important reason, because it will be more comfortable, and if it's comfortable you are much more likely to wear it. Overall, we want you to wear it and protect your teeth. Set yourself up for success and have your mouthguard customized at Greashaber Dentistry.