Dental Bridges

Ann Arbor, MI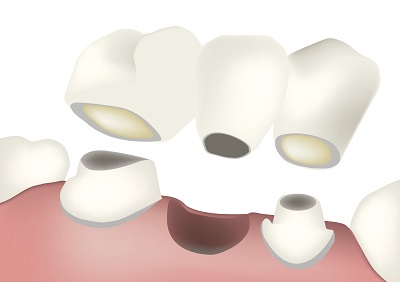 Losing a tooth unexpectedly can come as a sudden and unwelcome shock. You simply do not realize how much you depend upon your smile on a day to day basis and feeling as though your smile is not as attractive as it once was due to tooth loss can deal a major blow to your self-esteem. Losing one of your permanent adult teeth is not just a cosmetic concern, either; it can also lead to pain and discomfort and eventually loss of your remaining teeth. We here at Greashaber Dentistry understand how upsetting it can be to lose a tooth, which is why we are pleased to offer dental bridges as a long-lasting and attractive restoration option to our patients.


Why You Need a Dental Bridge

There are many different reasons that you may lose one of your teeth. As children, our primary teeth (baby teeth) naturally fall out to make room for your permanent, adult teeth. However, loss of a permanent tooth can be very problematic for many people and may need immediate intervention from us.

Common causes of tooth loss may include trauma or injury to the tooth, advanced tooth decay, or even genetics. Failure to address and treat the missing tooth can cause a myriad of health complications later on in life, such as pain when biting and chewing, poor bite force, loose teeth, and finally, loss of your other teeth.


Types of Dental Bridges

There are three main dental bridge varieties that you may encounter at our office. The most popular type of bridge is called a traditional bridge. A traditional bridge consists of a minimum of one pontic (the prosthetic tooth), which are affixed to the surrounding teeth with a crown. Traditional bridges are normally made out of either porcelain-fused-to-metal or just porcelain. This type of bridge is very popular, and for a good reason. They are durable and reliable and a great option for many patients.

The other two kinds of dental bridges are called cantilever bridges and Maryland bridges. While these are not as commonly used as a traditional bridge, some patients may be good candidates for them. A cantilever bridge has a crown on just one side, which makes them less strong than a traditional bridge. A Maryland bridge, which is also commonly called a resin-bonded bridge, does not use a crown at all. Instead, two "wings" are bonded to the back of the surrounding teeth for support.

We do not recommend cantilever or Maryland bridges on molars, as they are not as reliable as traditional bridges.


Getting Fitted for a Bridge

Fitting for a dental bridge typically takes a minimum of two appointments to complete. During the first appointment, we will start by preparing the site, including your surrounding teeth, for the bridge. We will also take impressions of your teeth, which will be used to manufacture your permanent, final bridge. While we wait for your permanent bridge, we will fit you with a temporary bridge.

Once your permanent bridge is ready, we will have you return for a final fitting. We will place the bride and check to make sure it is both comfortable and to your satisfaction. We will also educate you about how to maintain your bridge, which includes using special "threading" flossers to keep them clean and healthy.

A dental bridge can improve not only your appearance, but also your quality of life. To learn more about dental bridges, or to set up an appointment with us here at Greashaber Dentistry, please give us a call at (734) 662-1113 today!