Dental Crowns

Ann Arbor, MI




Sometimes, addressing issues with your teeth can be as simple and straightforward as placing a filling over the affected tooth. However, sometimes we here at Greashaber Dentistry meet a patient who has advanced dental concerns and needs more advanced treatment for it. When that happens, sometimes a dental crown may be exactly what is needed to help our patient get lasting relief from their pressing dental problem.


What is a Dental Crown?

A dental crown is often called a cap, as it covers the tooth like a little hat. There are three primary types of dental crowns that you may encounter at our office. These include gold crowns, porcelain-fused-to-metal crowns, and all-porcelain crowns. Depending on the location of the affected tooth, we may make a recommendation to you about the ideal type of crown for your tooth. A dental crown is a restorative dentistry procedure.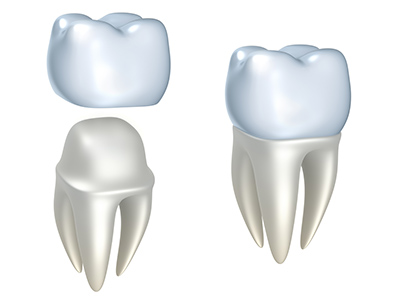 A gold crown is strong and durable, making it ideal for biting surfaces. However, we do not advise them for your visible front teeth. Porcelain-fused-to-metal is a popular choice, as it is more affordable than a solid gold crown but is still attractive. This type of crown looks and feels like a real tooth. Some patients may not like this type of crown, though, as the metal components may become visible over time as your gums naturally recede.

Finally, all-porcelain crowns are a great choice for many of our patients, as they do not show any metal parts. While they do look entirely natural and do not reveal any metal, we prefer to place them over your front teeth. This is because porcelain, while durable and strong, can also be brittle. They may become prone to chipping and are therefore not advised for your back teeth.


Why is a Dental Crown Needed?

A dental crown may be necessary for many different reasons. Some of the more common reasons that we may need to place a crown in a patient's mouth may include severe tooth decay, a broken or chipped tooth, a tooth that has serious staining or discoloration that is resistant to other treatment.

Teeth that are uneven in size or shape may also benefit from a dental crown. Sometimes a crown may be required if a tooth has undergone a root canal procedure, as it can help protect the affected tooth. A crown may be used with a dental bridge, and they can also be placed over a dental implant, as well.


Placing a Dental Crown

Getting a dental crown is a straightforward procedure. It may take several appointments to finalize your fitting, but this is to help ensure it is an excellent fit and comfortable for you. We begin by preparing your tooth for the crown, which can include removing any tooth decay or a small amount of your tooth to prepare the site for the crown.

We will then take a cast of your tooth, which will make sure your crown is a custom fit. This will go to our lab, who will then create your crown. You will be fitted with a temporary crown in the meanwhile. When your crown is ready, we will have you come in for a final fitting to make sure you are completely satisfied with it.

If you would like to learn more about the many benefits of dental crowns, or you are ready to schedule an appointment with us here at Greashaber Dentistry, please give us a call today at (734) 662-1113!