Dental Implant FAQ

Dentist Ann Arbor, MI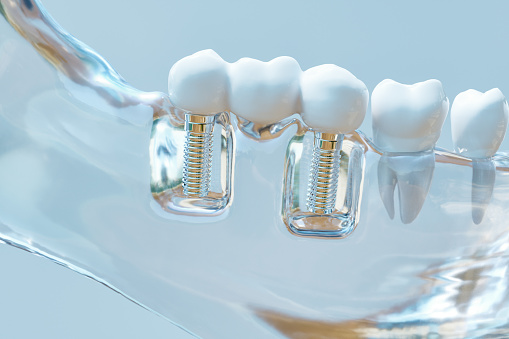 Dental implants are dental prostheses designed to replace missing teeth or teeth that have decayed beyond restoration. Basically, a tooth implant comprises a titanium or zirconia post that is placed in your jawbone to replace the root of your tooth. A crown, bridge, or denture is then firmly attached on top of that fixture. At Greashaber Dentistry, we will ensure you get a tooth replacement procedure that will restore your smile and improve your life.


What Does Dental Implant Placement Entail?

The first phase of a dental implant procedure is dental implant placement. This involves surgery whereby the implant is placed in the jawbone to replace the root of your missing tooth. Before implant placement, your dentist will have to take a scan and x-rays to determine the precise position the post will be placed. Once that's done, the implant placement will occur under general or local anesthesia, depending on the complexity of your case and preference.


What Happens During Dental Implant Restoration?

Your doctor will undertake implant restoration when your jawbone has healed and fused with the implant posts. This process is referred to as osseointegration and it takes up to six months. Osseointegration ensures there is a strong foundation where the replacement tooth will be attached. During this phase, your doctor will attach an abutment to the implant post. After a short healing period, a crown, denture, or bridge will be affixed to the abutment.


How Common Are Dental Implants?

The use of dental implants is common practice. A lot of patients are opting for dental implants because many individuals lose their teeth due to injury or decay. Dental implants are effective replacements for missing teeth. Dental implants can also be used to replace multiple teeth. This is because implants are robust and thus can effectively stabilize dental bridges. Implants are commonly preferred because with proper care they can last for a lifetime. Dental implants are also popular because they are deliberately made to resemble the patient's natural teeth and thus are more aesthetically fitting.


How Long Do Dental Implant Procedures Take?

The timeline of your dental implant procedure will be determined by your oral health, the number, and type of teeth involved, and if a tooth extraction is required before the implant is placed. The time frame can be between three and nine months. It may take longer in case you need an extraction, which will extend the healing period, or if you need bone grafts before your dentist implants the posts.


Are There Any Downsides to Dental Implants?

Like any surgical procedure, you may experience certain negative effects like pain, inflammation, and infection. However, these effects are typically uncommon and when they do happen they are minor. Your dentist will advise you on how to manage these risks.


Is the Procedure Painful?

The dental implant procedure is simple and is done under anesthetic. Most patients report that it's less painful than they expected. Besides, your doctor will give you painkillers to manage any discomfort you may experience after the dental implant procedure.


Can You Have Dentures with Dental Implants?

You can have dental implants placed underneath your existing dentures to improve the stability of your dentures. However, this is only done if your dentures are in excellent condition. Your doctor will examine your dentures and advise you accordingly. If you need a dental procedure that will improve your smile and your oral health, contact us at Greashaber Dentistry at (734) 662-1113 today.