Dentures with Dental Implants

Ann Arbor, MI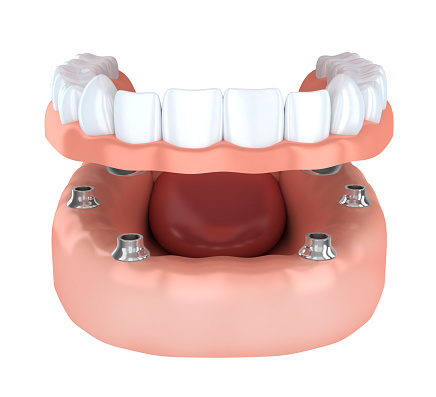 Missing teeth can be restored, even if you are missing all of them. Dentures today come with a range of options, you don't have to have loose, poor fitting dentures. You can have firm teeth that stay in place when you need them to. We have options that allow for permanent retention, or can be removable when needed. Today's dentures with the assistance of dental implants are a significant upgrade from decades past. At Greashaber Dentistry, we understand that our patients are living longer, with more youthful energy and vibrance than ever before. We are healthier in nearly every way, let us help you have healthy teeth as well.

Dental health including treatment options and technology have come a long way. Traditional dentures were secured using a combination of suction and specialty adhesive. The result was teeth that never truly felt comfortable, forced changes to your diet, and always carried the insecure feeling that they could come loose or even fall out. Implant retained dentures remove all of those negative features. We can help you have fully restored teeth that look natural, feel natural and function the way they are supposed to. Implant retained dentures will let you eat that ear of corn we see in denture commercials, and chew your regular diet without the use of messy adhesives. Best of all, they will stay in place.


Implant Retained Dentures

An implant retained denture is a denture system that is anchored in your mouth with dental implants, not adhesive. A dental implant is a titanium or ceramic post that we surgically embed in your jawbone. It sounds complicated, but the process is simple and only minimally invasive. With the posts set firmly, we can then retain a denture device. We offer variations that allow for dentures to be firmly secure while still being removable, and for dentures to be set permanently in place and non-removable.


Ball Retained Dentures

A ball retained implant secured denture comes with the option to be removable as needed. It can include the placement of four to six implants that allow for a snap on and off feature. The denture can be securely snapped into place and pulled off for cleaning or resting as desired.


Bar Retained Dentures

A bar retained implant secured denture utilizes a bar system that is attached to the implants. There are generally four to six implants in place. The denture can then be hooked onto the bar system securing the denture in place. It can also be removed as desired.


Full Arch Bridge Implant Retained Denture

The All-on-4® Treatment Concept is a full arch denture, or often described as a bridge, that is permanently held in place with four to six dental implants. It is cemented onto the implants making this device not removable.


Why Choose an Implant Retained Denture?

Implant retained dentures offer superior benefits over traditional dentures. They provide you the freedom of forgetting that you are wearing a device. Patients find their ability to chew and speak to be much easier. Having your denture firmly set also removes that pain and frustration that comes with dentures that are rocking, shifting or even coming loose.