Dental Bridge with Implants

Ann Arbor, MI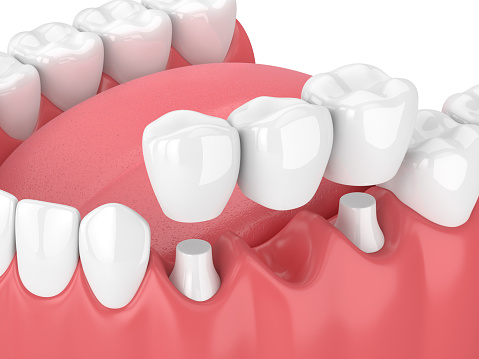 Multiple missing teeth can be restored using a dental bridge, even if you do not have a healthy tooth to anchor it in place. We can build a firm post using a dental implant to secure a bridge providing you with multiple replacement teeth. If you have missing teeth, you have options, including a treatment for permanent restoration. Our team at Greashaber Dentistry can help.

In general dentistry, a dental bridge can be used to restore one or more missing teeth. Traditional practice uses two anchor crowns that fit over natural teeth with the replacement teeth between. This type of restoration is considered a good option for many patients. In addition, we can also use a dental bridge when there are limited or even no healthy teeth available to serve as an anchor with the assistance of dental implants.

A dental implant is a surgically placed post. We embed it straight into your jawbone, where once healed it will serve as a firm anchor in your mouth. A dental implant is specifically designed to reestablish connection between your mouth and jawbone. It has one end that is threaded to vastly increase the surface area that is in contact with the bone, and the other end has a head that allows us to connect prosthodontics such as a dental bridge or crown. This allows for a permanent restoration of teeth even if you have no natural teeth.


Why Should I Replace Missing Teeth?

In decades past it was much more common to just have missing teeth, it went hand in hand with age. As dentistry has advanced, we have learned the important role our teeth play on not just our oral health, but our overall health. This includes keeping teeth healthy and clean, while also restoring damaged or missing teeth. Missing teeth leads to multiple problems, including:

| | |
| --- | --- |
| • | Changes to Your Diet: Missing teeth can force you to change what you eat. Changes to your normal diet will affect other areas of your health. |
| • | Changes in How You Chew: When a person is missing one or more teeth, they will often chew predominately on the other side, or in varying ways. They may not be aware that they are doing it. Uneven chewing will increase the wear on otherwise healthy teeth increasing their risk of disease and damage. |
| • | Changes in Your Bone: When a tooth is lost, the bone will respond quickly with sorption and atrophy. This is because the bone, all of our bones, require exercise to stay robust. When an area of bone is not being used, the bone pulls back the resources and diverts it to other areas causing the bone in that location to shrink. A dental implant reestablishes that connection and transfers the energy of usage to the bone keeping the bone healthy. |


You do not have to live with missing teeth. There are options that will improve your look, function, and health. We are happy to review your needs and discuss various treatment options with you, which may include a dental bridge supported by implants.