Placing Dental Crowns

Ann Arbor, MI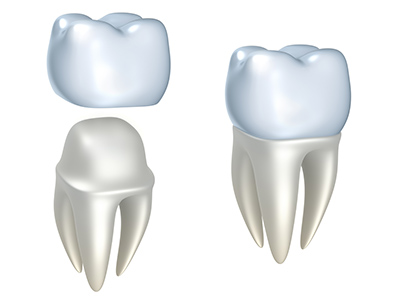 Did you know that an injured tooth can be repaired with the help of a dental crown? This means you won't have to remove the entire tooth and have it replaced with dental implants. Moreover, dental crowns are extremely effective at restoring a person's facial appearance and could be the key to restoring your smile.

Many patients prefer dental crowns because they are relatively durable compared to other restorative dental treatments.


Types of Dental Crowns

Patients can choose from a wide range of dental crowns, including materials made from porcelain, zirconia, and ceramic crowns, among others.


Porcelain Crowns or Ceramic Crowns

Porcelain crowns are probably the most commonly used type of dental crown. They are easily available, have good longevity, and are made to match the appearance of natural teeth. More importantly, porcelain teeth are fully biocompatible with no trace metals or toxic elements inside. The only tradeoff is that porcelain crowns are not as strong as metal crowns, and patients must exercise caution when using them.


Porcelain Fused-to-Metal Crowns

Porcelain-fused-to-metal crowns are a popular type of dental crown that provides both aesthetics and strength to the teeth. They've been in use for over 50 years, and dentists are well aware of their safety profile. They are less costly than all-porcelain crowns but may not replicate their aesthetic look. This is because the metal in these crowns can create the formation of a gray line at the gum line.


Titanium Crowns

Titanium has always been known for its incredible durability and resistance to bacteria. It is long-lasting and is compatible with patients. The only disadvantage is that titanium crowns are more expensive than the alternatives.


Benefits of Ceramic Crowns

Ceramic crowns are a good choice for patients because they mimic the look of real teeth, and most people will never be able to tell the difference. At Greashaber Dentistry, our dentists Dr. Greashaber and have the ability to match ceramic crowns to your surrounding teeth.

Did you know that ceramic crowns can be made using a mold of your own teeth? This provides a more snug fit and ensures that your existing teeth aren't exposed to food particles. You can practice oral hygiene without worrying about damaging your existing teeth.

With good oral care, you can expect your ceramic crowns to last for nearly 25 years. It is true that they have a limited shelf life and won't last forever because they will experience wear and tear. Over time, these teeth will become chipped, broken, and lose their appearance. This will require the old crown to be replaced with a new crown.

Don't know which type of crown material is best for you? Head on over to Greashaber Dentistry and ask our dentists for their professional advice. They will provide you with the pros and cons of each crown option as well as their recommendations. Are you considering same-day crowns? Dial (734) 662-1113 to book an appointment.