Benefits of Dental Implants

Ann Arbor, MI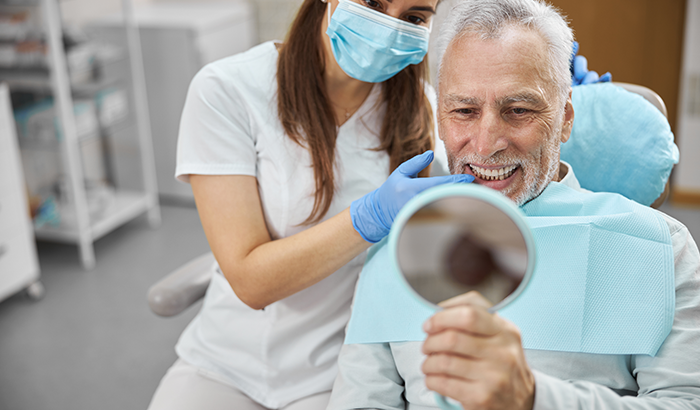 Have you ever wondered why an increasing number of people are choosing to undergo dental implants now more than ever before? Well, you're not alone. The increasing popularity of this tooth-replacement technique isn't without reason.

At Greashaber Dentistry, we believe in maximizing our patients' comfort and providing them with the best facilities. If you're also thinking about making a leap but wondering what perks the procedure has to offer, you've come to the right place.

Here are all the benefits of dental implant restoration you need to know about.


They Are Comfortable

Comfort comes before anything else, which is precisely why more people opt for implants than other dental interventions. Since they are directly embedded into your jawbone, they stimulate your jawbone and provide increased support and strength. In fact, they even look and feel like natural teeth.


They Are Versatile

One can't simply compare procedures like dentures with dental implants. Not only is the former extremely limited in regards to the number of teeth it can replace, but it also isn't permanent. Implants, on the other hand, are much more versatile. Your dental surgeon can fit them with a partial denture, a full denture, a bridge or a crown based on the number of teeth that need fixing.


They Allow You to Speak Easily

Whether it's the loss of a single tooth or multiple teeth, your ability to speak can suffer a major setback. With dentures, there's always the risk of lisps and slurs, which can be distracting and embarrassing. However, with implants, both issues can easily be fixed. Furthermore, dentures supported by implants also stay in their place much more firmly, enabling you to speak confidently.


They Prevent Bone Loss

Losing a tooth leads to loss of jawbone, making your face appear caved in over time. However, with a dental implant, you will have a titanium rod anchoring your implant into the jawbone, encouraging it to grow. Not only do dental implants help prevent bone loss, but they also reverse some bone loss that may have already occurred.


They Help You Eat Your Favorite Foods

One of the most important functions of our teeth that we often take for granted is the ability to eat whatever we like. Thankfully, implants don't carry any significant food restrictions, so you can eat your favorite crunchy or even chewy food items easily.


Schedule Your Consultation

From improving your oral health to providing a long-lasting fix for your tooth loss, dental implants carry many benefits. We encourage you to visit Greashaber Dentistry and consult our professionals Dr. Greashaber and . They will make sure to run you through the process and educate you about the endless benefits of dental implants. Call us at (734) 662-1113 to schedule your consultation.