How Much Do Dental Implants Cost?

Ann Arbor, MI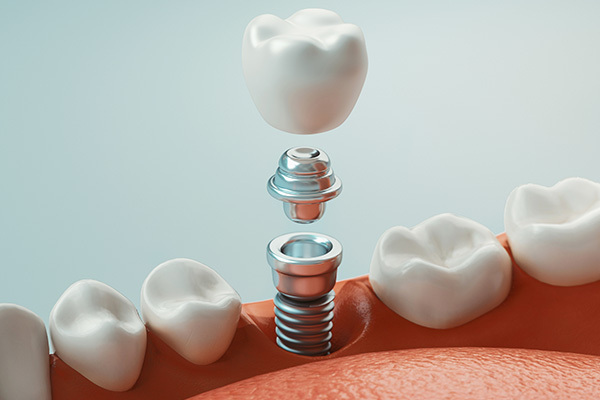 Implant dentistry has transformed the way missing teeth are replaced. Today, there are various options for replacing teeth that utilize dental implant technology. At Greashaber Dentistry, we are dedicated to supporting you throughout your journey to achieving excellent oral health, occlusal or bite function, and a beautiful smile.

Our devoted team will guide you through each step of the dental implant procedure, beginning with a thorough checkup of your oral structures to identify any existing issues. We will carefully assess and analyze the results to develop tailored solutions that best meet your goals and budget. Dental implants utilize threaded screw-like posts to hold crowns, bridges, or dentures in place to make an artificial tooth.


A dentist may suggest you receive mini dental implants if you have limited jawbone available or loose dentures to stabilize them so that they don't slip around in the mouth. Mini implants are a little cheaper than standard implants because they require a less invasive surgery procedure to place them.


Factors That Affect the Cost of Dental Implants

Many things can influence dental implant costs, so it is prudent you consult with a dentist about your procedure and the pricing. In deciding the way forward on dental implants and their costs, one should consider the following factors:


Number of Implants

The more dental implants you require to rebuild your smile's function and health, the more you will pay for the procedure. Replacing one tooth, for instance, costs you less than replacing multiple teeth, or an entire row of missing teeth.


Preliminary Procedures

Patients that require pre-implant procedures before receiving dental implants will pay for the additional cost. For instance, if jawbone deterioration has occurred over time due to tooth loss or if the jawbone is too weak to support implants, you might need a sinus uplift and a bone graft, which are vital for the success of implants and are added to the overall cost.


Materials

Dental implants are crafted from a biocompatible material that can integrate directly with the jawbone without problems. Titanium and zirconia are two commonly used dental implant materials. Zirconia is preferred because of its camouflaging color white but it's not as long-lasting as titanium. If a dentist is using titanium implants, you could pay a lower amount than if zirconia implants were used.


Dental Implant Costs

How much each element costs depend on the dental practice. Some dental practices offer a free computed tomography scan at the start of the process as an incentive. The computed tomography scan helps determine suitability for dental implants.

If you are going to cater for the fees charged on 3D x-rays and CT scans, then you may pay $350 to $515 for these services. Dental implant procedures are different, and so is the pricing. For a single tooth, you are looking at a price tag ranging from $3,100 to $5,800. This includes the implant screw, abutment connector, crowns, and other procedures.

Where multiple teeth need to be replaced and they are located next to each other, you can have a dental bridge with implants that cost roughly $6,000 to $10,000. These multiple-tooth implants can utilize a bridge that features only two implant screws to support three or four neighboring teeth. Since the two implants are able to support three or four teeth, it would be much cheaper than having four individual implants.

Where you have the whole row of upper and lower teeth being replaced, you expect to pay higher. You can have implant-supported dentures where the arch gets anchored to four or six implants in the bottom and upper jaw. You can have full mouth implants costing anywhere from $8,000 up to $90,000.


Dental Implant FAQs
What Are Dental Implants?

Dental implants are artificial tooth roots that provide a strong foundation for replacement teeth. Dental implants are constructed of biocompatible materials, like titanium, and are placed into the jawbone to support a dental restoration, such as a crown, bridge, or denture.


Does Insurance Cover Dental Implants?

Some insurance plans cover dental implants while others do not or only cover part of the procedure. For example, some dental insurance plans may cover the crown attached to the implant. Some medical insurance plans will cover part of the surgery if the procedure is medically needed.

Implants have emerged as the most authentic solution for replacing missing teeth when compared to other alternatives. If you're considering this dental procedure, our experienced dentist is here to guide you through the entire procedure and address any concerns you may have.


Do Dental Implants Hurt?

Dental implants should not cause permanent pain. In most cases, any discomfort experienced during the initial healing period should subside within a few days to weeks. If you continue to experience persistent pain, it is recommended to consult with our local dentist for further evaluation and appropriate management.


Why Does My Dental Implant Hurt After a Year?

Pain occurring after a year of having a dental implant may be a sign of a complication such as an infection, implant failure, or issues with the restoration. It is crucial to visit our dentist as soon as possible for a thorough examination and appropriate treatment to address the underlying cause of the pain.


Why No Dairy After Dental Implant Surgery?

Avoiding dairy products after a dental implant procedure is not a universal guideline. However, some dentists may advise temporarily avoiding certain foods, including dairy products, if the patient experiences discomfort or sensitivity due to the surgery. Dairy foods can trigger inflammation in the body that could cause discomfort in the healing wound.

Always follow the dentist's specific instructions regarding post-implant care and dietary restrictions.

We understand that undergoing any dental treatment can be unnerving, which is why our dedicated dental team at Greashaber Dentistry is available to break down the implant dentistry treatment options for you. We encourage you to reach out to us at (734) 662-1113 and schedule an appointment today, so we can deliver you personalized care and discuss the best treatment plan for your dental needs.